We had not published any news here for a while, but we were not inactive. We are happy to refer you to our Facebook page again. Here you will also find information about our products: facebook.com/DasWerkModels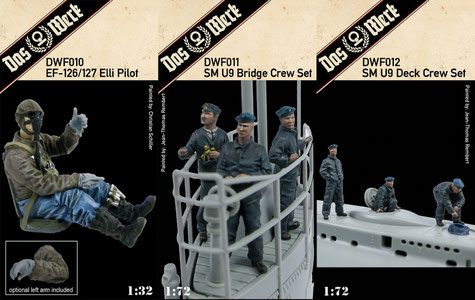 We have now produced figures to match the two incredibly popular kits of the Ju EF-126 / EF-127  and the U-Boat SM U-9.
Of course, the figures are in the appropriate 1:32 respectively 1:72 scale.

The pilot is delivered with an alternative left arm, while the submarine crew is divided into two sets of three figures each.

We are expected to start delivering to the distributors at the end of April 2021.
You can find more pictures on the respective product page:
We hope to have created a great addition to your models with these figures.

Best Regards
Nils
Das Werk-Team